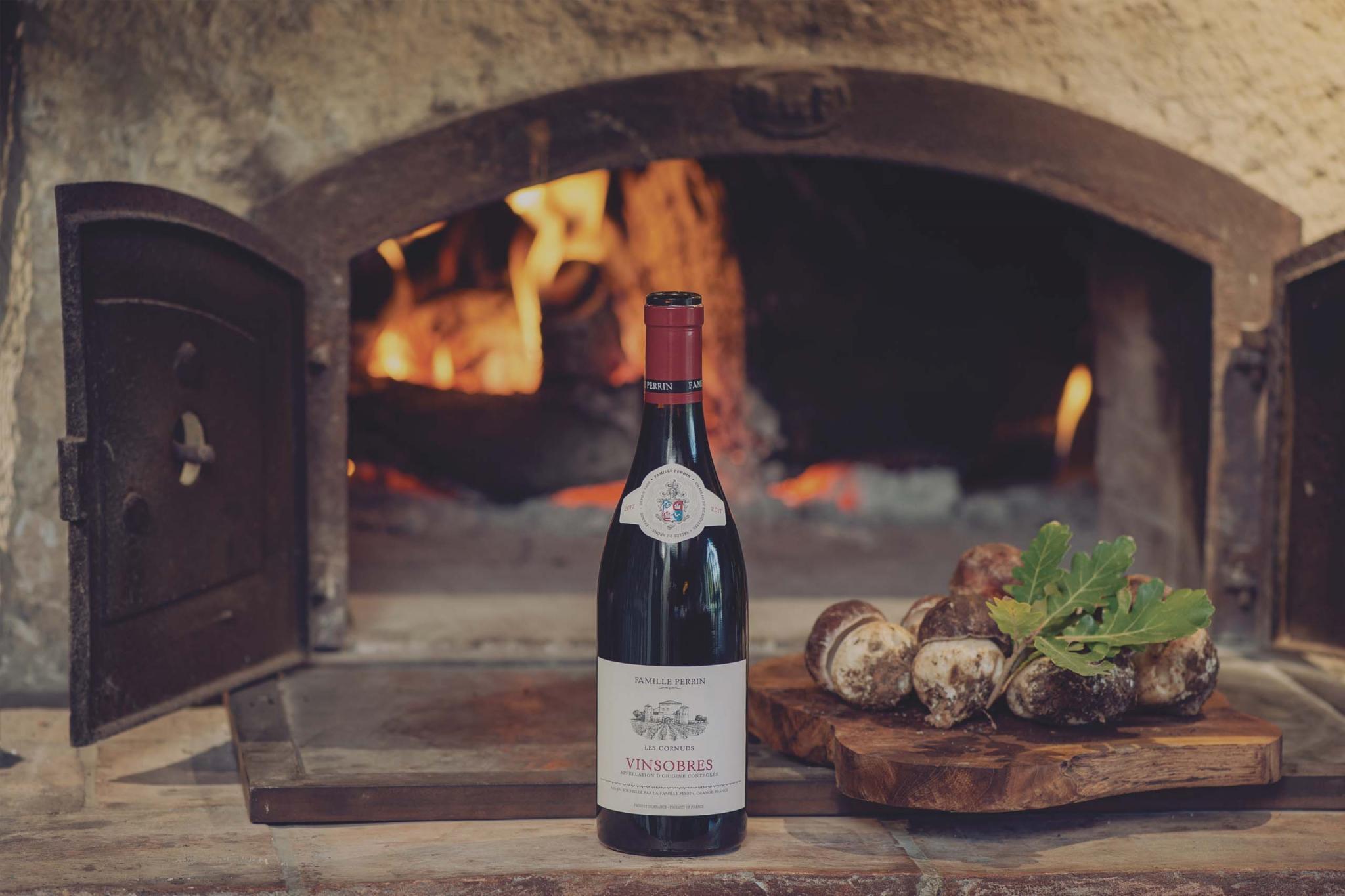 Famille Perrin - Les Crus
Famille Perrin Vinsobres "Les Cornuds" 2018
Presentation
We really like the terroir of Vinsobres, a beautiful village located near Vaison la Romaine; The vineyard is at an altitude of 300m and is situated for the most part on terraces. Vinsobres is particularly suitable for Syrah because it preserves the finesse which is often lost in more southern climates. It develops notes of violet, smoked meat and blackberries. Grenache is also suited to this terroir, full bodied and not heavy, with notes of black chocolate, cherry and typical Garrigue aromas.
Ageing
The crop is manually harvested. Upon arrival in the cellar, each grape variety is sorted, destemmed and vatted separately. The Syrah is vinified in large oak Foudres and the Grenache in stainless steel tanks. The extraction is done by punching down and the frequency is determined by tasting. Blending takes place after malolactic fermentation.
The vintage
The 2018 vintage is characterised by exceptional weather conditions. Flowering took place in the best possible conditions, with a historically abundant grape output. A few rainy episodes at the end of the spring complicated things a little with an attack of mildew, but the good weather then settled down until harvest, which took place under idyllic conditions. The wines are beautiful.
Famille Perrin - Les Crus
Famille Perrin Vinsobres "Les Cornuds" 2018
Serving
It is not necessary to decant this wine. Serve at 18°C

Tasting
Beautiful, deep purple colour. The Syrah that makes up this wine brings roundness with notes of spices and fleshy red fruit. The altitude of this vineyard, also allows this wine to keep good freshness which gives it a very nice balance.
Famille Perrin - Les Crus
Famille Perrin Vinsobres "Les Cornuds" 2018
Location
The most northern vineyard of the southern Rhône. The Perrin family owns around 60 hectares in one single plot in Vinsobres. The average altitude is 300 metres on hills and terraces.
Terroir
Stony and sandy marl on the slopes, stony quaternary alluviums on the terraces. To visit our website, you must be of legal age to purchase and consume alcohol according to the laws of your country of residence. If there is no such law, you must be at least 21 years old.
I accept these terms and conditions: No
Alcohol abuse is dangerous for your health, consume in moderation