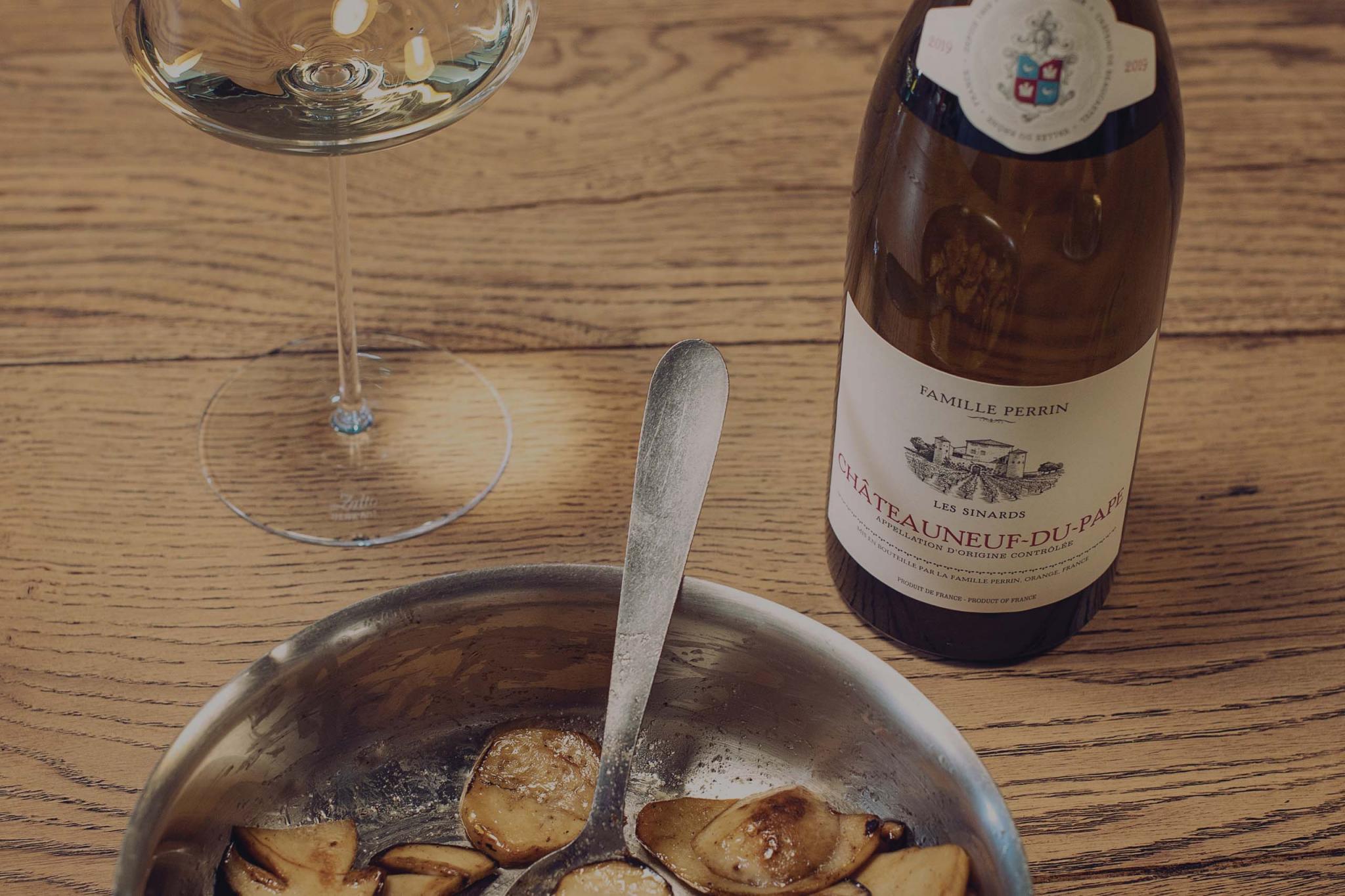 Famille Perrin - Les Crus
Famille Perrin Châteauneuf du Pape "Les Sinards" Blanc
Presentation
This extremely rare wine comes from a 2.5 acre vineyard located within the "clos" around the historical pope's palace. All of the viticulture is carried out by the Beaucastel team.
Ageing
Hand-picked and sorted grapes are laid in small boxes. Crushing is pneumatic, then the must is settled to separate the solid particles.
Fermentation then takes place, 50% in new oak barrels and the rest
in 1-year-old barrels.

The vintage
In 2010, all the right conditions were united to produce an exceptional vintage.
Heavy rainfall during spring, followed by a very hot summer and an Indian summer in September allowed for great harvest conditions.
This vintage produced very balanced wines with intense notes of fruit and great finesse.

Famille Perrin - Les Crus
Famille Perrin Châteauneuf du Pape "Les Sinards" Blanc
Serving
At 10°C in tasting glasses.
Tasting
A pale golden-yellow hue.
The nose is reminiscent of flowers with a touch of licorice and honey.
The texture is very soft, elegant and ripe, with flavors of ripe peach and licorice. It has good acidity and a salty character at the end.
This is a very typical Châteauneuf du Pape white in a great vintage
Famille Perrin - Les Crus
Famille Perrin Châteauneuf du Pape "Les Sinards" Blanc
Location
Sinards White comes from an area that we call the Clos du Château, near the village of Châteauneuf du Pape. The 2.5 hectare vineyard is located right next to the one of Les Sinards Red.
Terroir
Diluvial alpine deposits with rolled pebbles on clay. To visit our website, you must be of legal age to purchase and consume alcohol according to the laws of your country of residence. If there is no such law, you must be at least 21 years old.
I accept these terms and conditions: No
Alcohol abuse is dangerous for your health, consume in moderation