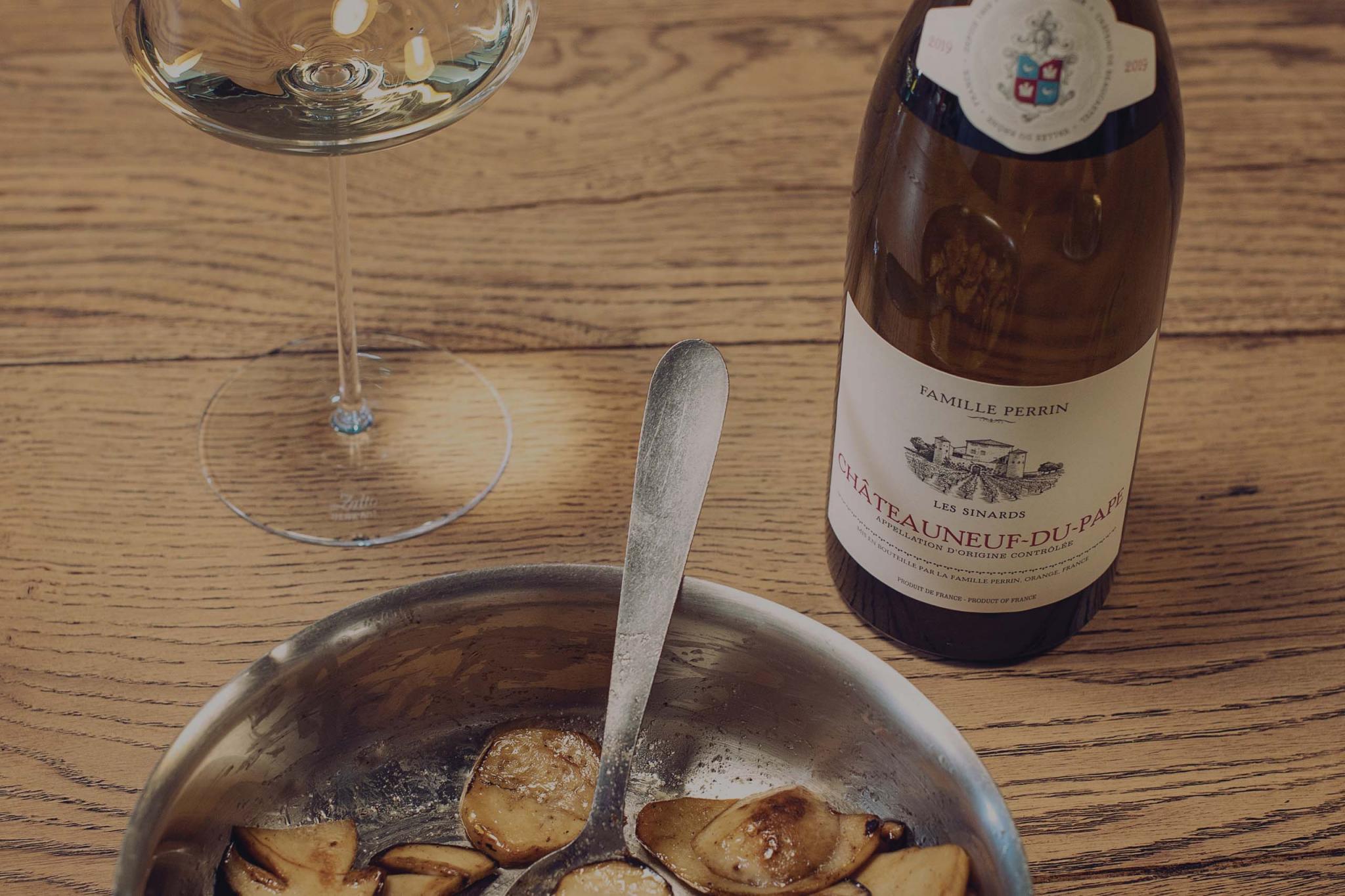 Famille Perrin - Les Crus
Famille Perrin Châteauneuf du Pape Blanc - Les Sinards - 2014
Presentation
This extremely rare wine comes from a 2.5 acre vineyard located within the "clos" around the historical pope's palace. All of the viticulture is carried out by the Beaucastel team.
Ageing
Hand-picked and sorted grapes are laid in small boxes. Crushing is pneumatic, then the must is settled to separate the solid particles.
Fermentation then takes place, 50% in new oak barrels and the rest in 1-year-old barrels.

The vintage
The 2014 vintage is surprising for the region. It is characterised by a mild, damp winter, a hot and dry spring and a temperate and humid summer. An unusual year, a winemaker year. Bud break was very early, flowering took place in ideal conditions and fruit set was excellent, especially on Grenache. However, work in the vineyard and rigorous monitoring of the vineyard until harvest were necessary with wet months of July and August, favouring the vegetative growth. The harvest of white grapes took place under bright sunshine, with very nice analytical balances.
Famille Perrin - Les Crus
Famille Perrin Châteauneuf du Pape Blanc - Les Sinards - 2014
Serving
At 10°C in tasting glasses.
Tasting
The 2014 has a lot of freshness and minerality. An expressive and complex nose on peaches and pears, sweet spice and subtle ageing notes. The palate is rich and smooth, with great persistence, nice mineral tightness with a saline and greedy finish.
Famille Perrin - Les Crus
Famille Perrin Châteauneuf du Pape Blanc - Les Sinards - 2014
Location
Sinards White comes from an area that we call the Clos du Château, near the village of Châteauneuf du Pape. The 2.5 hectare vineyard is located right next to the one of Les Sinards Red.
Terroir
Diluvial alpine deposits with rolled pebbles on clay. To visit our website, you must be of legal age to purchase and consume alcohol according to the laws of your country of residence. If there is no such law, you must be at least 21 years old.
I accept these terms and conditions: No
Alcohol abuse is dangerous for your health, consume in moderation